How Volunteering Changes Lives, Ours and Others' – Insurance Journal Article
Published on January 9, 2014
As Seen in the Insurance Journal, December 16, 2013, Vol. 91, No. 24. Click here for original article
Viewpoint: How Volunteering Changes Lives, Ours and Others'
Written by Joanna O'Hanlon
The man is in his thirties. He has a slight build, but his calloused hands, swift movements and energetic smile are a testament to his willingness to work hard.
He is a regular worker at Loaves and Fishes, a homeless outreach charity in Sacramento, Calif.
He tells two first-time volunteers about how grateful he is that he is now employed part-time with the organization — he works here full-time, but half of his time is on a volunteer basis.
"I'm hopeful that I can either get another part-time job, or that I can get on [as] full-time paid staff here," he says to the women. They fill igloo drink coolers with lemonade for the midday meal as they talk with him. Then he drops the bomb that neither woman was ready for: "because I really want to get off the streets this year."
Community service is a high value for Abram Interstate Insurance Services Inc., a managing general agency in Northern California. Company employees are encouraged to volunteer at Loaves and Fishes every month, and are given leave from work to do so. They spend four to five hours helping to prepare a meal for hundreds of homeless men and women in Sacramento.
A homeless man working all day to serve the homeless is just one of the many impactful stories that Abram Interstate employees have encountered there.
Michelle Smith, an Abram employee since 2010, recalled meeting a homeless man from the Philippines the last time she volunteered: "He was just a really sweet old man and my heart went out to him."
"You can strike up a conversation with anyone there and they have an interesting story to hear," said Ashlee Blom, an Abram employee who has volunteered with Loaves and Fishes since she joined the company in 2011.
For Blom, the company's involvement with Loaves and Fishes afforded her the opportunity to serve others in a way she had always wanted to, but never had before. The first time she volunteered was during her first month at the company.
"I was nervous," she said, "just because I didn't know what to expect. I was confused about which building to go into. I didn't really know what to do. But once I got inside I was told to get an apron and gloves and then just started chopping."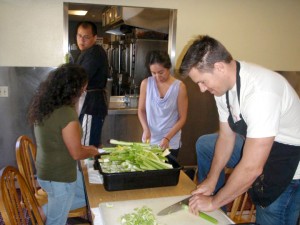 Abram Interstate Insurance employees prepare food for Loaves and Fishes
Though most employees are nervous their first time volunteering, they keep going back, and they even see it change the way they relate to their co-workers. Once they've gotten a chance to serve alongside them chopping onions or doing dishes together, they go back to the office knowing each other a bit better.
Not every company encourages employees to leave their cubicles and comfort zones and chop vegetables for the homeless, but Abram Interstate does, and the employees are thankful for that.
"I am always happy for the rest of the day," Blom said, smiling, "knowing I've done something for someone else."